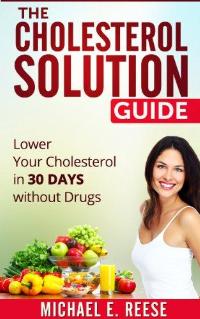 Discover How Easy It Is To Lower Your Cholesterol in 30 DAYS
Today only, get this Amazon bestseller for just $0.99. Regularly priced

at $4.99. Read on your PC, Mac, Smart Phone, Tablet or Kindle device.
This book will tell you what cholesterol is, its signs, symptoms, causes, and types, so that you will be aware of the need to reduce your LDL or bad cholesterol levels and increase the HDL or good cholesterol levels.
This book contains proven steps and strategies on how to lower your cholesterol the natural way in just 30 days.
Here Is A Preview Of What You'll Learn…
What is Cholesterol?
Symptoms and Effects of High Cholesterol
What Causes High Cholesterol?
Cholesterol-Lowering Foods
Home Remedies to Lower Cholesterol
Lowering Cholesterol with Fiber
Oatmeal for Cholesterol
Barley and Cholesterol
Red Yeast Rice for Cholesterol Reduction
Eggplant and Cholesterol
Cinnamon and Cholesterol
Garlic and Cholesterol
Apple Cider Vinegar and Cholesterol
Red Wine and Cholesterol
Cranberry and Cholesterol
Lemon Juice and Cholesterol
Juice Drinks for Lowering Cholesterol
Goat's Milk and Cholesterol
Herbal Remedies for Cholesterol
Vitamins and Cholesterol
Exercise and Cholesterol
Take action right away to lower your cholesterol in 30 DAYS without drugs. Download Today This Book, "The Cholesterol Solution Guide: Lower Your Cholesterol in 30 Days without Drugs", for a limited time discount of only $0.99!
Download Your Copy Today!
Tags: cholesterol, cholesterol kindle, cholesterol health, cholesterol diet, cholesterol recipes, cholesterol books, lower cholesterol, lower your cholesterol, how to lower cholesterol, cholesterol lowering, cholesterol diet plan, cholesterol treatment, cholesterol levels, cholesterol reducing, cholesterol solutions, cholesterol relief, cholesterol down