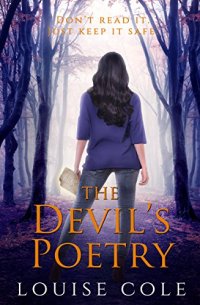 World war brews.  A young girl awaits the draft which will shatter her life. A dangerous cult promises salvation.   
Clever but insecure Callie has a normal life until a mysterious stranger thrusts a small book of poetry into her hands. A book which can save the world. "Don't read it," he says. "Just keep it safe." But Callie can't resist the temptation of reading the forbidden manuscript, and letting its images and words pour through her mind.
Before she has time to consider the book's implications, its demonic enemies strike. 
Callie must learn how to release the magic of the book to stop a global war, which could kill everyone she loves.  But even as she struggles to unravel its mysteries, she wonders: what will the consequences of this reading be?
And what will she have to sacrifice to succeed? Her secrets? Her heart? Or her life?
If you like thrills, twists and turns, then The Devil's Poetry is a ride unlike any you've taken before. Fans of Cassandra Clare or Holly Black will love this novel.
Don't miss this astounding YA thriller. Dare you read The Devil's Poetry?