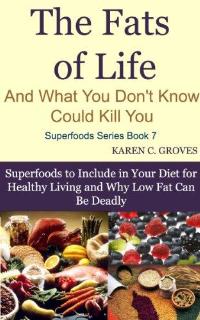 Low Fat is a great diet, right? Wrong!
The truth is coming out. The American Journal of Clinical Nutrition reported:
"The conclusion of an analysis of the history and politics behind the diet-heart hypothesis was that after 50 years of research, there was no evidence that a diet low in saturated fat prolongs life."
And there is more, much more. . . A low fat diet can be deadly!
READER REVIEWS
"This is a Fat Bible!"
"Great job exposing all the misinformation put out there . . ."
"Allows me to make educated choices about which oils are right for me."
"Definitive analysis of each fat we have access to . . ."
"Quick read with just the right amount of info . . .
Here is the Skinny About This Book:
This book is a guide to the most beneficial fats and oils you can buy – from Almond Oil and Animal Fat, to Walnut Oil. You will read about their nutritional values, their health benefits, and how to best include them in your diet – with some recipes and references to many more. Despite all the adverse publicity they've received, saturated fats are not the problem. The truth is coming out and this book debunks the low fat/no fat – a low fat diet can be deadly!
And You Really Need to Read About This:
Did you know that despite all the adverse publicity they've received, saturated fats are not the problem? Clues to this are everywhere. Fifty percent of our cell walls are comprised of saturated fat. And the lung surfactant that covers the air spaces in the lungs is comprised of 100% saturated Fat!
We debunk the low fat/no fat, especially saturated fat, thinking that has prevailed for over 50 years. We have been conned BIG TIME, and it has been 'all about money' and how big business could make more at the expense of our health.
What then are the facts about fats? That is the subject of this important book in our Superfoods Series.
Nutrient dense fats and oils can help your body produce and maintain healthy muscles, bones, organs, digestive tracts and brain functions. They are high in essential fatty acids and can improve your cardiovascular health, help prevent cancer and more. These may be called 'super fats and oils.'
You will learn the facts of fats, why fats and oils are important, about Saturated Fats, Monounsaturated Fats, Polyunsaturated Fats, Omega-3's, Omega-6's, Omega-9's and Trans Fats. And you will learn the concerns with Canola Oil and why we don't recommend it.
AND INSIDE: With this book, Get FREE Smoothie Recipes for the Top 2 Killer Diseases!
Start enjoying these healthy fats and oils today! Download this book NOW!