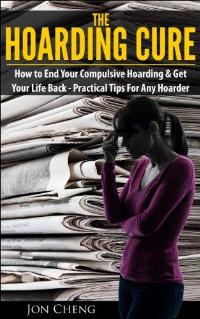 Is Hoarding Ruining Your Life or the Life of Someone You Care About? Want to Finally Get Your Compulsive Hoarding Under Control?
Are you tired of all those newspapers piling up in your living room? Have your friends and family stopped coming around because they simply have no room to move in your home?
Or do you have a good friend or family member who has gotten way out of control with what they call their "collections" that are nothing more than piles of paper and clothes?
If this sounds like you, The Hoarding Cure could be just what you're looking for . . .
What exactly is hoarding, and is it associated with any other disorders?
What are the types of compulsive hoarding?
When should a compulsive hoarder get help?
What kind of clinical treatment is available for hoarding?
I have a friend or family member who is a hoarder, what can I do to help?
How do I approach a loved one I suspect may be a hoarder?
Is there any medication available to help a compulsive hoarder?
How can I successfully rid myself of my hoarding disorder?
These questions – among many others – will be answered in The Hoarding Cure!
Hoarding is a serious disorder. It can literally tear families apart and ruin the lives of many people – not just the hoarder. It's also a serious health risk to the hoarder and their neighbors.
But there's good news – there IS help available. You just need to recognize what is happening and take action, whether you are the hoarder or if you suspect a friend or family member of hoarding.
Download this guide today to get started. Taking some kind of action is one of the most important steps you can take. It can be something as simple as reading a book that can trigger change.
I truly wish you luck in your journey cure your hoarding problems. Even if you decide not to give this book a try, I hope you find the help you need and are able to live a healthy and hoarding-free life!
Jon
Tags: hoarder, compulsive hoarding, compulsive hoarder, hoarding cure, compulsive behavior, hoarding disorder, hoarding self help, hoarding and clutter, hoarding addiction, hoarding help, hoarding self help, hoarding treatment, hoarding books, hoarder book, compulsive hoarding and acquiring, clutter, declutter, de clutter, remove clutter, mental health, hoarding cure, compulsive acquiring