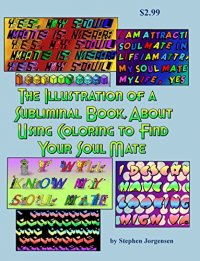 This is an illustrated book showing the coloring pages of my book, Find a Mate Coloring, which is a Subliminal Adult Coloring Book. In this Kindle book, those coloring pages are illustrated and the methods and meaning of each page and the subliminal messages contained in the pages are described. A basic understanding of how subliminal coloring can help you achieve your goals is explained. As long as you are coloring to relax your conscious mind, you may as well be adding positive messages to help you be more successful. My Subliminal Coloring books contain strange word shapes and letter fonts for you color. This Kindle book is not a coloring book because Kindle books are not interactive, they can't be colored, but examples of coloring pages are shown, it is a preview of the paperback Adult Coloring book.
The Adult coloring book that this Kindle book describes has interesting word shape and worded subliminal designs for you to color. But in the process of coloring, your subconscious mind absorbs the subliminal messages they present and this can help you change your attitude, feelings and behavior related to the worded message. You can make positive changes in your life when your conscious mind "tunes out" as you relax and color these pages. It is a form of Subliminal Messages.
As long as you are using "coloring" to relieve stress, why not get the added bonus of enhancing your ability to find a mate at the same time? It's a free bonus to the time you are spending to relax and de-stress from your tough life. The book described is a coloring book for ADULTS and that is because it is more complicated than a child's coloring book as it has much smaller and finer details. You have to concentrate to color in all the small shapes. That makes it an ideal method to clear your mind of many negative thoughts and it helps you relieve stress. Coloring will reduce anxiety, and help you focus and will bring you more mindfulness. It is therapeutic.
And because you are focusing on coloring the shapes going mainly by feeling, not by thinking, your conscious mind sort of shuts down, this not only relieves stress, (of the conscious mind judging your every thought and action), but it opens your subconscious mind to barely perceived information you normally wouldn't have noticed. In general, the conscious mind acts as a gatekeeper, choosing which "facts" it encounters are important to you and should be saved or acted upon, and which "facts" are not important, or are not relevant due to the "fact" that they are "false".
The subconscious mind, on the other hand, acts more like a computer that takes whatever information it is programmed with and uses that information as "facts" to influence you with vague feelings that you should do such and such. Subliminal messages are messages that are below the level of conscious perception. You are not consciously aware of them. But the subconscious mind can be aware of them, and can act on them. The subconscious mind can handle much more information than the conscious mind. If you are concentrating on reading a book for example, the conscious mind is focused on that, but is unaware of the TV, of surrounding conversations, of room temperature, of your heart rate, of the pain in your hip,etc. All these sort of things that the subconscious mind is keeping track of, the "conscious" you doesn't notice.
The designs depicted here are for colorists that would like to use their coloring time to change their lives in a positive direction. Make good use of your "coloring" time, and add positive subliminal messages to your coloring relaxing time. Improve your life!