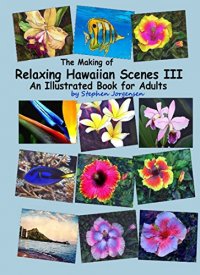 This book is a coloring book for adults as it is more complicated than a child's coloring book because it has smaller and finer details. You really have to concentrate to color in all the small shapes. That makes it an ideal method to clear your mind of many negative thoughts and it helps you relieve stress. Coloring will reduce anxiety, and help you focus and will bring you more mindfulness. It is therapeutic. It has 26 wonderful Hawaiian images to color, mostly Colorful Hawaiian Flowers. The colors shown on the cover are the real colors of real Hawaiian flowers.
In the 3rd version of the Hawaiian Scenes coloring book, I changed the way I outlined the colors, and in that book I do NOT outline each individual color, but provide only the outline of the whole flower, or leaf, or fish and let the colorist do the finer details of shading. It takes more work for the colorist, but allows a smoother picture without all the broken color shapes.You can look at the full color reproductions shown on the front and back covers to see what color the flowers and shapes are
and what the result could look like. Use your own colors if you want. The images on the covers will show you where the fish ends and the coral begins, or where the flower petal ends and the leaves begins, and so on. Many of the colors are just slightly different as you do the shading, so it is best to used a large selection of colored pencils to be able to find an appropriate color, and it helps to "layer" two different colors to get a better match.
It's relaxing as this coloring book will bring the beauty of Hawaii into your life. The next best thing to actually going there. All the work here is by the Hawaiian artist Stephen E Jorgensen. He has produced over 200 other works of beautiful Hawaiian art sold in Hawaii and on the internet. Most of his work is as large canvas wall hangings, some of which are reduced to coloring pages in this book. A lot of his other Hawaiian work is smaller 6″X8″ watercolors which provides the originals for most of the images in this coloring book. 26 one sided coloring pages are presented here.
Notice! The KINDLE edition of this book is a coloring book PREVIEW only and is NOT set up for coloring within the device. This ebook reports on the main coloring book that is available as a paperback. That's what you need to actually color the images.