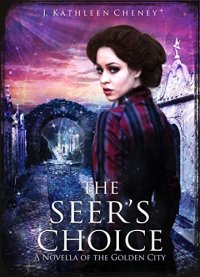 Free on 4th Jan 19



or borrow free on Kindle Unlimited.
No reviews yet.
Genoveva Jardim's father was a monster–a defrocked priest who used his healer's gift to murder instead. Determined to make amends for the deaths her father brought to the Golden City, she turned her back on her life among the aristocracy. She's chosen to work for the Special Police, learning how to use the healer's gift she'd never even known she had. She wants to save lives instead of killing like her father.
Rafael Pinheiro has kept an eye on Miss Jardim for some time now. The very first time he met her, his seer's gift told him he would someday marry her. What he can't figure out is why he would choose her. She's young and an aristocrat–hardly a match for a mere police captain raised in an orphanage. They don't seem to have anything in common.
But when Miss Jardim's life is threatened, everything changes…