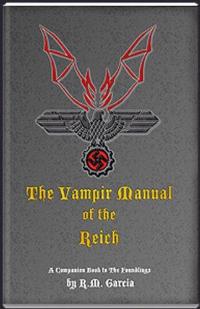 Bargain on 28th Feb 17 - 4th Mar 17


No reviews yet.
Can you fathom the horror of being chosen and kidnapped by vampires, simply because you fit their "ideal" racial requirements? To make things worst these are vampires were all once part of the Nazi Third Reich. They give you a terrible choice, which is really no choice at all. Join us or we will kill everyone you love in front of you and then kill you. Gripped by an unimaginable fear you agree; the whole while panicking over the reveal of your secret, the one thing that they don't know. They hand you a manual and expect you to learn it. This is the terror that Abbie experiences within the pages of The Foundlings. This is the very manual she is handed, and expected to memorize.
And to your despair, your secret Jewish heritage has been discovered. In this nightmare, what would you do next?
This is  the second book in The Foundlings urban paranormal vampire series.
Book One: The Foundlings
Book Two: The Vampir Manual of the Reich
Book Three: The Beasts Within
Book Four: The Codex of Vampiric Bloodlines
Book Five: The Shrouded Sagas
The Foundlings, urban paranormal vampire series is suitable as a vampire romance series for teens, age 15 and older.