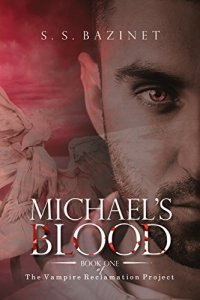 Free on 3rd - 7th Jun 21



or borrow free on Kindle Unlimited.
Also Available as:
Print Edition

Top - Reviews - Update Details
A vampire named Arel is hell-bent or more precisely, heaven-bent, on freeing his soul! His plan is simple. He believes that he can reverse his cursed condition by ingesting a little angel blood. Michael, an incarnate angel and Arel's friend, advises that the remedy could be hazardous, but Arel is determined to take his chances. He won't entertain the thought of what terrible consequences could be in store for him. After the deed is done, Arel and Michael join forces to control what's been unleashed in Arel, but the blood coursing through Arel's veins is always a step ahead of both vampire and angel.
PRAISE FOR "THE VAMPIRE RECLAMATION PROJECT"
"Enticing page-turner that has you wondering if indeed Arel's soul can be saved."
"It is a wonderful blend of the human and spirit realms with incredibly well developed characters and the perfect touch of humor."
"If you've ever had nightmares about unspeakable horrors, and you know inexplicably that man's inhumanity to man is part of your personal history, this book will ultimately give you courage to carry on. It is riveting and timely and inspired."
"I have never read a book like this and I am very glad that I did. It was fantastic from beginning to end."
"It is so refreshing to read a book that offers a completely new twist on a vampire's life."
"It is not often that one can say a book that involves a vampire is truly unique. However, I will go out on a limb here and say THE VAMPIRE RECLAMATION PROJECT is deserving of this accolade."