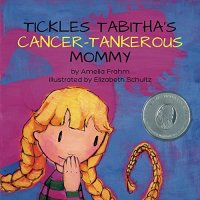 Explains cancer to kids. Written by a cancer survivor to help explain cancer, chemo, and the mood swings, she went through to her own family.
"Mommy's wig was still attached to her head, but she didn't look so good. The wig-hair stuck out like snarled rat-tails in all directions. There was a crooked horizontal line right where her smile should be. Worst of all, she was in no mood to play Tickles Tabitha."
The award-winning "Tickles Tabitha's Cancer-tankerous Mommy" was released October 2001, to a national audience on the Rosie O'Donnell Show. Its release helped pioneer resources for families coping with cancer.
Told through her daughter, Tabitha's eyes, the book uses candor and comic reality as it acknowledges some of the moody truths faced by families living with cancer.
Mom is tired, scared, and hungry. Tabitha is worried; her little brother is making a mess, and Dad is watching the ball game instead of paying attention to Mommy.
The book makes no promises about Mommy's health, but the children are assured that no matter what happens Mommy will always love them.
Diagnosed with breast cancer at age 34, this is the story Amelia Frahm wrote to help explain her cancer diagnosis to her own children. She first penned "Tickles Tabitha's Cancer-tankerous Mommy" in 1994. She soon discovered that talking or reading to young children about cancer was not a popular idea. The perception was that young mothers didn't need a book like hers.
To get her story told she established the Nutcracker Publishing Company in honor of her best friend, Laura Bouldin Karlman, who died at age 39 of leukemia. In October 2001, "Tickles Tabitha's Cancer-tankerous Mommy" was launched on the "Rosie O'Donnell Show."
But it didn't go without a hitch. While the book made it to the show, Amelia's appearance was cancelled due to anthrax. Fortunately, the books she sent ahead were not tossed due to fears of contamination.
After seven years of recovery, denial, personal loss, and both public and private rejection, Tickles Tabitha's Cancer-tankerous Mommy was announced on the nationally syndicated Rosie O'Donnell Show. Her career and reputation for pioneering resources for children of cancer-stricken parents was launched.
Today her children's book on cancer can be found in health care centers across the country.
"With no "kid-friendly" resources to explain the physical and emotional changes that result from battling cancer, Frahm wrote one…." — Barr Laboratories, Inc., makers of the breast cancer treatment tamoxifen.
"…laced with humor and insight. Very highly recommended for school and community library "health issue" collections." — The Midwest Book Review.
"It takes a humorous approach to one of the many down sides of battling cancer…. Eye-popping, gloriously colored." — Today's Librarian.
"Includes the sudden hush children feel whenever their world isn't what they expect." — Today's Dallas Woman.
In 2007 the book pioneered another first when the Tickles Tabitha character brought the first cancer awareness school program created by a cancer survivor to elementary schools. The program is based on character education.
More about it can be found by visiting Nutcracker Publishing.