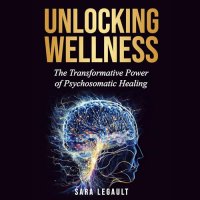 Free on 8th - 9th Nov 23



or borrow free on Kindle Unlimited.
No reviews yet.
Heal your mind, heal your body: Transform your life with Psychosomatic healing secrets!
Is Stress and emotional baggage weighing you down?
Do you struggle with chronic pain or mysterious ailments?
Have you tried countless therapies and treatments without lasting results? What if there's a natural, holistic path to healing you haven't explored?
Do you often find yourself trapped in negative thought patterns? Can you imagine a life where peace of mind is within your reach?
Are you frustrated by the limitations of modern medicine? Curious about the extraordinary potential of your own mind and body to heal?
In this book, find out how to:Unlock the Power of Your Mind Learn how to harness the incredible potential of your mind to heal your bodyBreak Free from Chronic Pain Discover how psychosomatic healing can alleviate and even eliminate persistent physical painAchieve Emotional Balance Explore techniques that can help you regain emotional equilibrium, even in the face of life's challengesHeal Past Traumas Uncover the keys to addressing and healing deep-seated emotional wounds from your pastRevitalize Your Energy Experience a surge of renewed vitality and energy by tapping into your body's own healing mechanismsTransform Negative Thought Patterns Say goodbye to self-sabotaging thoughts and hello to a more positive and empowered mindsetBoost Your Immune System Discover how your thoughts and emotions can impact your immune system's ability to defend your healthOvercome Anxiety and Stress Find relief from the pressures of modern life by mastering psychosomatic stress reduction methodsImprove Your Relationships Understand how psychosomatic healing can enhance your interpersonal connections and communicationExperience Inner Peace Cultivate a sense of inner calm and tranquility, even in the midst of chaosAchieve Personal Growth Embrace personal development through psychosomatic healing, leading to a more fulfilling lifeDiscover Joy and Happiness Unearth the sources of joy within yourself and experience a deeper sense of happinessLive Life to the Fullest Embrace psychosomatic healing and take control of your well-being, allowing you to live a life filled with health, happiness, and purposeLearn how to overcome these internal objections!Skepticism About Mind-Body Connection Some people might object, thinking that psychosomatic healing is too "out there" or that their mental state couldn't possibly impact their physical health. They might dismiss the concept as pseudoscience.Previous Failed Attempts Individuals who have tried various forms of alternative healing or self-help methods without success may be skeptical about the effectiveness of psychosomatic healing. They might believe that if other approaches didn't work, this won't either.Time Commitment People with busy lives may object due to concerns about the time required to learn and practice psychosomatic healing techniques. They might feel that they don't have the time to invest in such a process.Fear of Self-Discovery Some individuals may avoid psychosomatic healing out of fear of confronting unresolved emotional issues or traumas. They might be apprehensive about what they might uncover during the healing process.Reliance on Conventional Medicine People who are deeply entrenched in the traditional medical system may object to psychosomatic healing, believing that pharmaceuticals and surgeries are the only reliable forms of treatment. They might be hesitant to explore alternatives that deviate from this norm.If you want to unlock the hidden healing power within you, then scroll up and click the "Add to Cart" button now!