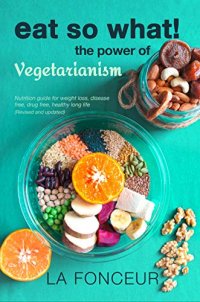 Whether you are vegetarian since birth or practicing vegetarianism for health issues or you are a non-vegetarian, this nutrition guide is for you!
A new diet trend catches fire every other day but these diets are far from being a healthy diet, they can provide a temporary solution to health issues, whether it is obesity, diabetes, or other diseases. But, in order to stay healthy, you must have an in-depth knowledge of the foods you eat, what is the actual purpose of the various foods, and how nutritious they really are.
A vegetarian diet can protect you from many diseases, it adds valuable and healthy years to your life. Plant-based healthy vegetarian foods can be the solution to most of our daily health problems. Many diseases can be prevented with Food Therapy.
Understand Your Food Scientifically
In Eat So What! The Power of Vegetarianism, research scientist, and registered pharmacist La Fonceur helps you understand your food in a scientific and real way so that you are not misled by any random diet. With Eat So What! The Power of Vegetarianism, learn Why is every nutrient important? How you can get maximum health benefits from nutrients. What are the right types of nutrients for you? How can even nutrients be harmful if their right type and right quantity are not chosen?
No Supplements! All Natural
When you include the right nutrients in the right amount in your diet, you don't need supplements. Learn how you can practice vegetarianism all naturally without any man-made supplements. Learn how you can prevent anemia, vitamin B12, and protein deficiency with vegetarian foods naturally. Now you no longer need to depend on man-made dietary supplements.
Get rid of nutritional deficiencies
Eat so what! The Power of Vegetarianism is the nutrition guide for weight loss, disease-free, drug-free, and healthy long life.
This Nutrition guide discusses the following topics in detail:
What are Nutrients? Why are they so important?What are the health benefits of being vegetarian?Why you should eat more protein every day.What are the high protein sources for vegetarians?Truth About Fats! Why fat is not the enemy.Why you should never give up carbohydrates.What are the right types of carbohydrates and fats that you should eat every day for health benefits?How to prevent anemia and vitamin B12 deficiency while being a vegetarian.
Additionally, find some healthy and tasty vegetarian recipes with Eat So What! The Power of Vegetarianism.