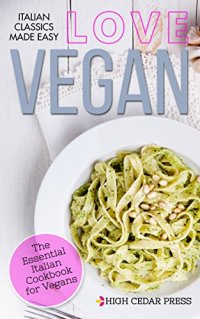 Bargain on 21st Sep 21



or borrow free on Kindle Unlimited.
No reviews yet.
Discover Simple, Everyday Vegan Meals Inspired by Authentic Italian Flavours
Available To Read On All Kindles, Smart Phones, Laptops And Tablets.
Italian food can be deemed some of the best in the world and although it is most commonly known for its pizza and pasta Italian cuisine is actually very diverse, making it extremely easy for a vegan to enjoy the traditional flavours of Italy.

No more than 30 minutes prep timeAll recipes have been adapted for the vegan diet without compromising on taste, texture or flavourRecipes focus on simple and basic ingredients – no expensive vegan substitutes are used
A delightful and tantalizing Italian vegan food journey awaits you in the recipes within this book.

Whether you are a vegan, a vegetarian or a meat-eater looking to reduce the amount of meat in your diet, this book will inspire you to cook authentic Italian dishes every night of the week.
Try These Easy & Inspirational Italian Vegan Recipes Today…
Quick & Easy Alfredo SauceSpicy Aubergine CaponataHomemade GnocchiRosemary & Thyme Infused FocacciaAuthentic Italian Chickpea FlatbreadManicotti with Spinach 'Ricotta'Homemade Pesto PizzaVegan ParmesanCreamy Almond CheeseRich & Luxurious Chocolate Hazelnut TartTiramisu CookiesAnd Many More Mouth-Watering Dishes!

The 'Love Vegan' cookbook series is the perfect companion for vegans, vegetarians and even meat eaters looking to make easy and delicious plant-based meals
Download Your Copy Now and Start Cooking Easy & Delicious Italian Vegan Dishes Today!
Check Out What Others Are Saying…
"I am a vegetarian and I LOVE this cookbook. Every recipe I have tried has been a hit. All of them recipes are full of flavor. You would never know that they are vegan. You don't feel like you are missing anything when eating this book's set of recipes. I can't wait for the author to come out with another book!" – Lol'd
"The recipes are easy to follow and there is so much to choose from. I can't wait to try out some of the recipes and I don't think I will get bored with this book anytime soon." – LL
"It certainly doesn't feel like you are on a diet and that's what I like about this cookbook." – Albert
"This book has recreated your classic Italian favorites to make it vegan friendly. From basic Italian recipes to new gastronomic dishes that highlight just how diverse vegan cooking can be serve up scrumptious vegan meals, Italian style." – LOVESPELL
Tags: vegan, vegetarian, vegetarian cookbook, vegan cookbook, vegan recipes, vegetarian recipes, dairy free, vegan diet, lactose free, egg free, italian vegetarian, milk allergy, lactose intolerance, non dairy, italian recipe, italian cookbook