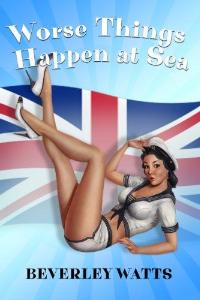 Top - Reviews - Newspaper - Update Details
**NOTE: This book has changed its title to "An Officer and a Gentleman wanted."


Beverley Wilkins promised herself when she started working at Britannia Royal Naval College, the Royal Navy's premier officer training establishment, that she would eventually become that most envied of creatures – an officer's wife.
She might be divorced and in her mid 40s, but it doesn't mean she's given up on romance – after all, she's seen 'An Officer and a Gentleman'…
The only problem is that so far, the only man in her life is her dog Nelson who unfortunately has a mind of his own – not for nothing is he named after Britain's greatest hero.
But it's a new term which means new officers.
Anything could happen…!
Worse Things Happen At Sea previously started life as an ongoing series of humorous short stories written in a light hearted diary style. Fans of the series will now have the opportunity to find out whether Beverley really does find love 'Officer and a Gentleman' style…
Praise for the Worse Things Happen At Sea Humorous Story Series:
"Best described as 'Bridget Jones in a military establishment, it made me laugh out loud."
"Eye-wateringly funny romantic comedy, it's very clever and a very easy read"
"A well written and funny insight into the life of a civilian lady in a position of authority in a Royal Naval training establishment. Nelson, her dog, has half a mind of his own, (the other half is hiding somewhere) loved by all, causes her some problems, wonderful.."
"This irreverent story is a mixture of vulnerable femininity, delinquent dog and an irrepressible sense of fun in a setting of stuffy tradition at one of the world's most famous naval training establishments. It's well-written, fun and funny."