Listing on BookAngel:
---
Miss Millie's Groom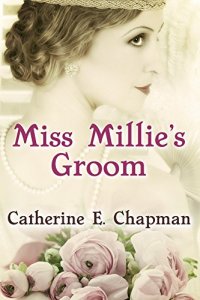 Last Free on: 11th Jan 18
Free Today!
Read More

...As a romance, it ticks all the right boxes, and it's a pleasure to see it come with a well-written story behind it...
Millicent Awbridge is the only daughter of Sir Randolph Awbridge and spends her days in luxury at Glassnest Hall. As a young and eligible lady, it is decided that she should be married off to someone suitable, but she only has eyes for Ryan O'Flynn, the groom on the estate. However, he is well aware that such a marriage would not be acceptable. Soon after though, the outbreak of World War I brings changes for them all, as Ryan is sent to the front line and Millie finds herself wanting to be useful. Finding work in a hospital, to the horror of her father and aunt, she slowly grows from being a spoilt young woman to a lady who understands her life and responsibilities. But having grown up and the War ends, she has to decide what kind of life she wants to lead in the future and how that will include Ryan.
When I started reading this book, I began to wonder about a lead character who goes from hating someone to almost infatuation just by having arms wrapped around them. And this is in the first few pages. This thought didn't change for the first few chapters as you get to know the characters and you wonder where the story is going, but I'm glad to say this is one of the few where the lead character does grow and learn throughout the story. The characters come across well and are consistent in what they are doing with all their flaws intact. This makes for a more interesting read as to begin with  Millicent's youth and inexperience are obvious, while those around her act in a more realistic manner. The setting around the war provides a solid backdrop to the events and helps to provide an interesting set of circumstances and situations to be overcome.
One part I was slightly disappointed on is there are a couple of plot points in it that I was expecting to be used later on, only for them to never appear again, seemingly to be there only to move the story on instead of being part of it. Also, I will admit to noticing just how many mistakes young Millicent makes through the start of the book.
As a romance, it ticks all the right boxes, and it's a pleasure to see it come with a well-written story behind it. Readers looking for a HEA will certainly enjoy it
Rating:
4
Reviewed by
Reviewed on:
2017-05-23
Review Policy: No compensation is received for reviews. View our Review Policy here.