Listing on BookAngel:
---
Book for Kids: The Rainbow Dragons and Little Sleepy (FREE BONUS): (Children's Picture Book about the Funny Multi-Colored Dragons, Books for Kids age 3-7, Cartoons, Fairy Tale, Adventure Book)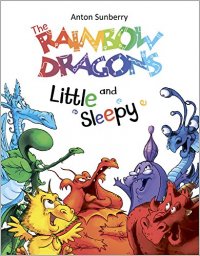 Last Free Dates: 22nd Nov 17 to 24th Nov 17
Read More

... The pictures are good for early readers, or children who the story is read to....
Sleepy is a little boy who loves to sleep. He loves it so much that one day he dreams himself into the magical world of the Rainbow Dragons. If he can't persuade the squabbling dragon siblings to work together, he might not be able to go home.
The first thing that struck me when I opened this book was the presentation. The full colour illustrations are perfect for children, and the layout is fantastic. Unfortunately the second thing that stood out was a typo that caused a jarring tense error: "he find himself" (find should be found). Sadly that tense shift in mid-sentence is not a one off; for example loc 12 contains another.
The other thing that might cause parents some issues with certain child readers is the "Rainbow Bridge". In the minds of many this phrase is immediately associated with pet death, so if you've used the Rainbow Bridge concept to explain loss of a pet to a child, this book will invoke unfortunate associations, even though the Rainbow Bridge in this story has quite a different function.
Despite this, it is the type of story that is great for young children: a quest, lots of characters, and a problem they can resolve. It is easy for them to relate to the main character: a boy who likes to sleep. The pictures are good for early readers, or children who the story is read to, and the free colouring sheets available with the book give them something to do.
The font is rather small and some of the vocabulary complex, making it perhaps better to read to children than to give it to them to read on their own, but a grammar editor or proofer could solve the only real problem which is the tenses.
I'm giving it a three. The tense shifts might be easier to ignore in a book for older readers, but for children just starting to read poor writing can cause problems and bad habits which need to be corrected.
Rating:
3
Reviewed by
Reviewed on:
2017-12-20
Review Policy: No compensation is received for reviews. View our Review Policy here.