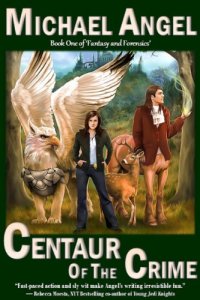 Bargain on 22nd - 26th Jun 20



or borrow free on Kindle Unlimited.
No reviews yet.
Also Available as:
Print Edition

C.S. Lewis meets CSI…when Amazon Bestselling author Michael Angel presents a brand new fantasy series: 'Fantasy & Forensics'.
She's the LAPD's best corpse-kicker. Dayna Chrissie, LAPD's leading Crime Scene Analyst, enjoys nothing more than finding the one clue that can solve a crime. The day she finds a golden medallion on a body that's been dumped at a downtown construction site, she doesn't think it's that out of the ordinary. Until that medallion transports her to the magical world of Andeluvia.
She must find a killer in time to stop a war. Dayna discovers that she's been summoned to solve the murder of the realm's king, before war breaks out between Andeluvia and the Centaur Kingdom. Trouble is, no one seems to want peace when warfare offers chances for riches and glory – so Dayna ends up with a team of cast-offs: a centaur wizard with father issues, a brash griffin warrior, and the world's unluckiest magical deer.
And the trail leads where she least expects it…back home! When the trail of evidence brings Dayna and her new friends back from Andeluvia to Los Angeles, she must use all of her forensic knowledge in order to solve the case.
The price of failure? A war that will kill millions and devastate Andeluvia.
Hope she works best under pressure.
Books in the 'Fantasy & Forensics' Series:

Centaur of the Crime

The Deer Prince's Murder

Grand Theft Griffin

A Perjury of Owls (Coming Early 2016)
Included with this story are preview chapters of Book Two in the 'Fantasy & Forensics' series: The Deer Prince's Murder.
Reviews of 'Fantasy & Forensics':

"This clever, humorous fantasy springs to life from page one…"

— Publisher's Weekly
"Fast-paced action and sly wit make Angel's writing irresistible fun." — Rebecca Moesta, NYT Bestselling co-author of Young Jedi Knights