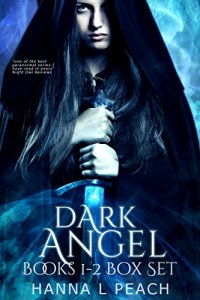 "…one of the best paranormal series I have read in years." ~ Night Owl Reviews Top Pick
Forget everything you know about angels…
You'll likely find Alyxandria slicing demons with her blades rather than plucking at harp strings. Whether it's with weapons, unarmed or with the "borrowed magics" of distilled angel-blood tattoos, she trains harder than any other Seraphim warrior to prove she is nothing like her parents who abandoned her to become Rogues.
When Alyx starts displaying the signs of a strange new magic, most don't believe her and no one has answers for her. The web of lies she uncovers will shatter her world and she'll be forced to risk everything for Israel, a mortal she barely knows.
Alyx and Israel will soon realize that their destinies are inexplicably tied – and that their choices will determine the fate of Earth itself.
It begins in Angelfire…
This is a box set of books 1-2 of the Dark Angel fantasy series:

Book 1 – Angelfire

Book 2 – Angelstone
Join my VIP Fantasy Readers and get Angelsong (Book 3) as a thank you gift. Details at the back of this box set.
The series is complete! Angelsong (Dark Angel #3), Angelblood (Dark Angel #4) and Angeldust (Dark Angel #5) are out now (not included in this box set).