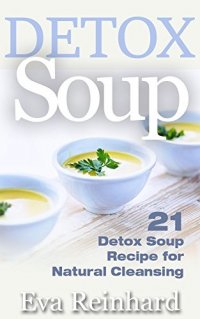 Free on 21st May 21



or borrow free on Kindle Unlimited.
No reviews yet.
Get 2 BONUS BOOKS when you buy this book!
This is a compilation of 21 Detox Soup Recipes for Natural Cleansing!

You will surely adore each recipe here from the first to last as they are carefully selected for this book to help you detox your body from unwanted chemicals.You want the best Detox Soup Recipe ideas for helping your body support it's natural defenses? Then this book is for you!
Turmeric Broth Detox Soup, Light Spinach, Parsley, Lemon & Garlic Soup, Thai Kabocha Squash Soup and Mung Bean Detox Soup are just to name a few of the delicious Detox Soup recipes in this book!
This book Consists of:

Table of Contents (clickable)

Introduction

TWO Bonus Books

21 Detox Soup Recipes for Natural Cleansing
Hurry up before the price will be increased!
But wait that's not all!
I have got something EXTRA for you…
TWO BONUS BOOKS if you buy today!
If you buy my book now I will give you TWO EXTRA BONUS books!
Slow Cooker Soup-A-Doop: 13 Delicious Slow Cooker Soup Recipes
PALEO FREEZER: 11 Prepare-Ahead Paleo Freezer Meals
You are getting THREE EBOOKS for the price of ONE!!!
Paleo freezer meals can save you alot of time on a weekly or monthly basis. Many people don't have time to cook every night and that makes it hard to follow the Paleo Diet. So why not freeze some Paleo Meals? These meals can be made in big portions to be frozen so you get several meals from one effort.
What are you waiting for? THREE ebooks for the price of one? That's a NO-BRAINER!
Download your copy today! This incredible low price for this amazing Detox Tea recipe book could be increased at anytime!

Hurry up – this is a steal!