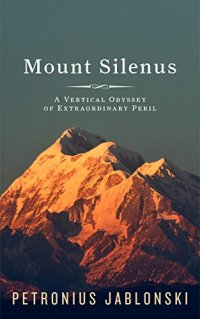 Free on 8th Jul 19



or borrow free on Kindle Unlimited.
No reviews yet.
What goes up must come down — unless stuck. Inspired by a disastrous attempt on Denali.
When novice climbers Trevor and Gaspar attempt Mount Silenus they discover that inspiration from a famous book makes a poor substitute for experience. Accuracy is important on mountains, especially one darkened by legends of a prehistoric sloth — the Abominable Unau — and the indigenous people who make sacrifices to it. As the text bears less and less resemblance to the terrain, squabbles over its interpretation become a battle of faith vs. reason. Those are best fought on flat surfaces.
Why does a man climb a mountain? To taste the distilled essence of life, to glimpse the clandestine maneuvers of his soul, and because he believes everything he reads. For two high school teachers who skipped their climbing classes, a masterpiece advocating spontaneity over skill proves irresistible. Unknown to them, the reclusive author honed his technique scaling barstools and brooding over the unjust fame of Nietzsche. He ignored eyewitness accounts of the Abominable Unau for stylistic reasons. Stories about wrathful apparitions infesting a labyrinth of caves didn't make the cut either.
During a quixotic journey in the general direction of the summit, Trevor and Gaspar join a scientist investigating paranormal activity on one of the plateaus. The book fails to warn about traps set by the mountain people to protect the sacred site from desecration. When they fall into icy catacombs they must confront the source of the legends to survive.