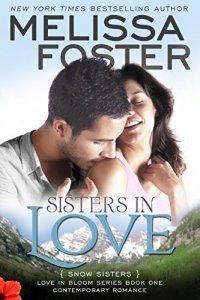 Also Available as:
Print Edition

Voted BEST BOOK SERIES by Supportive Business Moms, UK
"I highly recommend this book to fans of Nora Roberts (one of my personal faves) and fans of a sweet story filled with heat and heart." — Tia Bach "Mom in love with fiction" (on Sisters in Love) 
"A beautiful story about love and self-growth and finding that balance to happiness. Powerfully written and riveting from beginning to end." — National bestselling author, Jane Porter 
"You can always rely on Melissa Foster to deliver a story that's fresh, emotional and entertaining. Make sure you have all night, because once you start you won't want to stop reading. Every book's a winner!"  New York Times Bestselling Author Brenda Novak 
"Melissa Foster is quickly becoming one of my favorites. Fated For Love was amazing. It kind of reminds me of Jill Shalvis' books and they are my benchmark for contemporary romance awesomeness."  –Books Like Breathing (on Fated for Love)
"Contemporary romance has found its new breakout author. Melissa Foster does not disappoint! Steamy sciences interlaced with strong family values. I have found my newest poolside favorite author." A Gluten Free Mom, reader review (on Sisters in White)
In SISTERS IN LOVE…
Danica Snow has always been the smart, practical, and appropriate sister. As a therapist, she prides herself on making reasonable, conservative choices, even if a bit boring, and as part of the Big Sister Program, she has little time for anything more in her life.
Blake Carter is a player. He never gets bored of conquering women, and with his sexy good looks and successful lifestyle, he has no trouble finding willing participants. When his friend and business partner dies in a tragic accident, he suddenly, desperately, wants to change his ways. The problem is, he doesn't know how to stop doing what he does best.
When Blake walks into Danica's office, the attraction between them is white hot, but Danica isn't the type to give in to the heat and risk her career. Danica's desire sets her on a path of self-discovery, where she begins to question every decision she's ever made. Just this once, Danica wants to indulge in the pleasures of life she's been so willingly ignoring, but with her Little Sister in turmoil and her biological sister's promiscuousness weighing heavily on her heart, she isn't sure it's the right time to set her desires free.
Watch for the full LOVE IN BLOOM series:
SNOW SISTERS
Sisters in Love
Sisters in Bloom
Sisters in White
THE BRADENS
Lovers at Heart (Treat & Max)
Destined for Love (Rex & Jade)
Friendship on Fire (Josh & Riley)
Sea of Love (Dane & Lacy)
Bursting with Love (Savannah & Jack)
Hearts at Play (Hugh & Bree) Taken by Love (Luke) 
Fated for Love (Wes) 
Romancing My Love (Pierce) 
Flirting with Love (Ross) 
Dreaming of Love (Emily) 
Crashing into Love (Jake)Healed by Love (Nate) 
Surrender My Love (Cole) 
River of Love (Sam) 
More Coming Soon! 
Crushing on Love (Shannon) 
Whisper of Love (Tempest) 
Thrill of Love (Ty)
THE REMINGTONS
Game of Love (Dex)
Stroke of Love (Sage)
Flames of Love (Siena)
Slope of Love (Rush)
Read, Write, Love (Kurt)Touched by Love (Boyd)  
SEASIDE SUMMERS 
Seaside Dreams (Bella) 
Seaside Hearts (Jenna) 
Seaside Sunsets (Jamie) 
Seaside Secrets (Amy) 
Seaside Nights (Sky) 
Seaside Embrace (Hunter) 
Seaside Lovers (Grayson) 
Seaside Whispers (Matt) 
ABOUT THE AUTHOR:
Melissa Foster is a New York Times & USA Today bestselling and award-winning author. She writes contemporary romance, contemporary women's fiction, romantic suspense, thrillers, and historical fiction with emotionally compelling characters that stay with you long after you turn the last page. Melissa is available to chat with book clubs and welcomes comments and emails from her readers. Visit Melissa on social media or her personal website.